If you are looking for a way to wirelessly cast your screen or extend your desktop to another screen, Proscreencast might just be exactly what you are looking for.
So what exactly is Proscreencast?
The Proscreencast SC01 is a device, which allows you to mirror your screen to any HDMI compatible device, such as your TV or projector.
Proscreencast is a brand under the umbrella of Arylic, who traditionally specialize in wireless audio devices.
The products presented under the Proscreencast brand all offer some kind of wireless HDMI functionality.
In this article we will focus on the SC01 model, which is most suited to people who simply want to share their laptop or mobile screen to a display, such as a TV or projector.
Before we get started, I wanted to tell you about one BIG BONUS that you will certainly be interested in… a whopping 15% off your Proscreencast purchase! Simply follow the link below and use my discount code:
Click HERE to Get 15% OFF Proscreencast using discount code: SIYTEK
Proscreencast SC01 Features
First let's take a quick look at the summary of most important features:
| | |
| --- | --- |
| Windows Connectivity | Miracast |
| Mac OS Connectivity | AirPlay |
| Android Connectivity | Miracast |
| iOS Connectivity | AirPlay |
| Resolution | Max 4K @ 60fps |
| HDR | Yes |
| Screencasting | Mirror + Extended Desktop |
| Where To Buy? | Check latest price at Amazon | Proscreencast Direct |
Proscreencast SC01 Unboxing
The Proscreencast is neatly presented and comes without excessive packaging. We are off to a good start!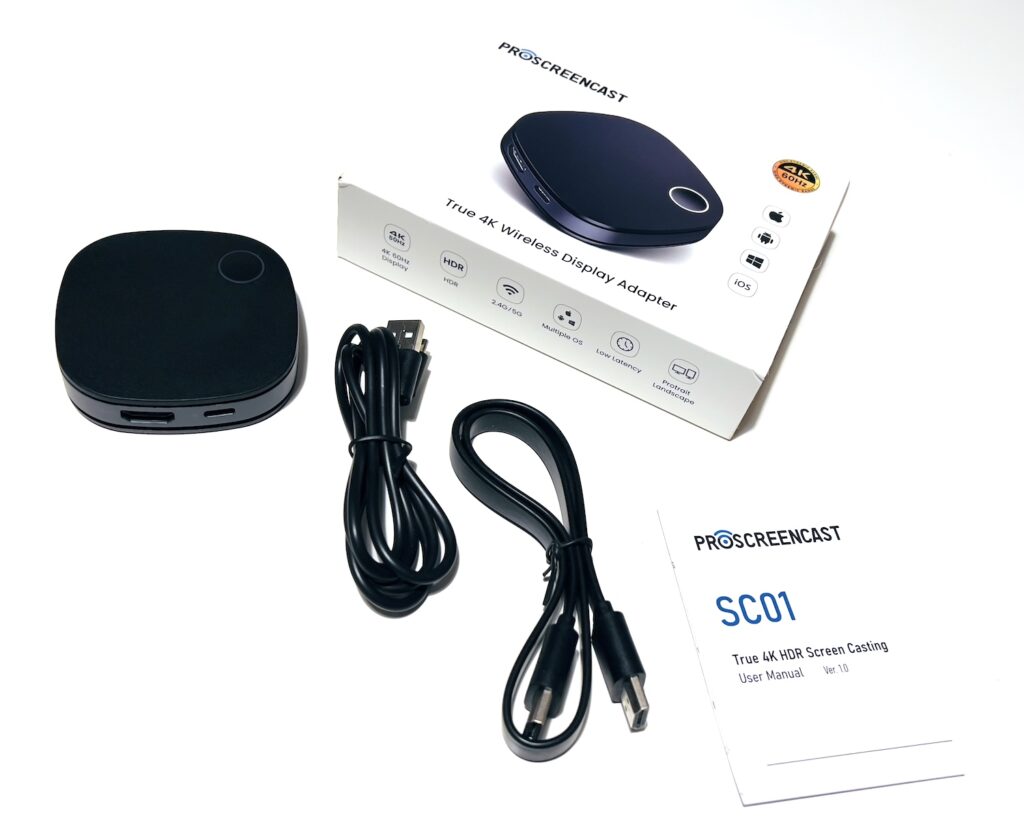 Inside of the box we find the essentials:
1x Proscreencast adapter
1x USB-A to USB-C power cable
1x HDMI to HDMI cable
Both of the required cables are bundled within the package. I like that the included HDMI cable is flat.
The only thing not included that is required is a power supply.
The instructions mention that a 5V 2A supply should be used.
But what does this mean?
The aforementioned power cable that is bundled in the box allows us to power Proscreencast SC01 from a standard USB-A type port.
However a standard USB-A type port can only supply a maximum of 0.9A (for USB3.0), which is not enough for Proscreencast SC01.
Therefore we have two options for powering Proscreencast SC01:
Use the included USB-A cable and connect to a USB adapter that can supply 2A (not included – view on Amazon).
Use a USB-C to USB-C cable (not included – view on Amazon) to connect to any spare USB-C port on laptop / charger etc.
In both cases, we need something that is not included and must make an additional purchase.
Ok, let's be honest… who doesn't already have a USB-A phone charger?
In mostly all cases, you can just grab a phone charger or similar and use it to power your Proscreencast SC01.
However, it would have been nice if you could have used a USB port on the back of the screen for power. This certainly simplifies installation in some cases.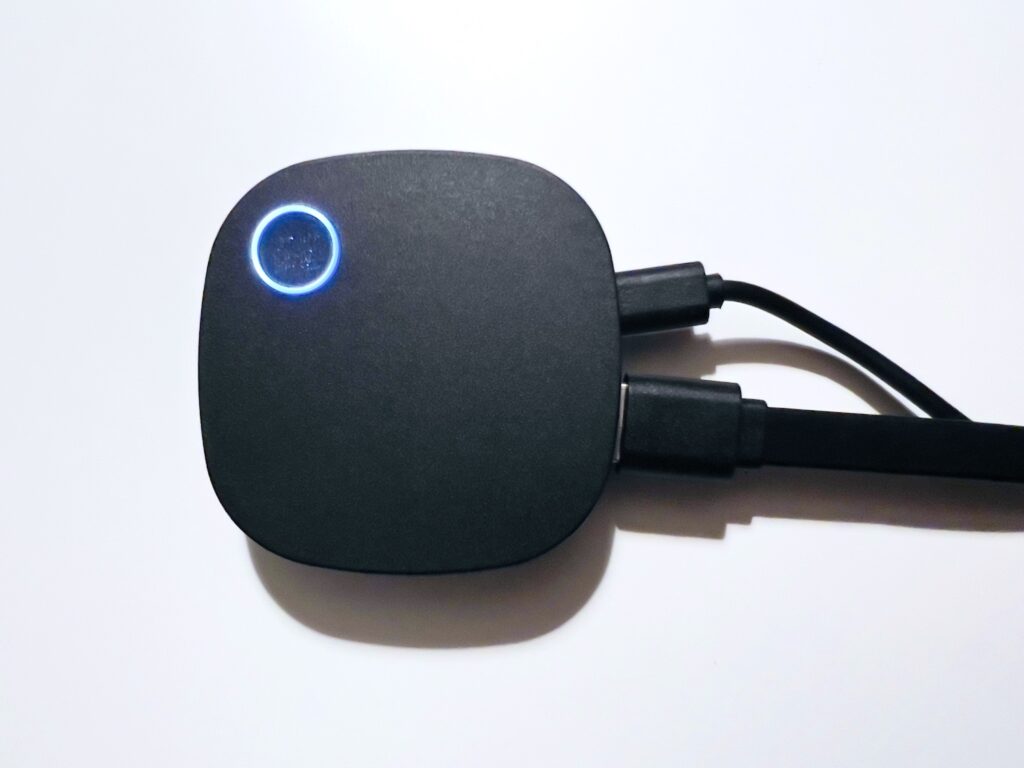 The Proscreencast SC01 adapter is very lightweight but still retains a quality feel.
Both the USB and HDMI sockets feel to have the correct amount of resistance when inserting the connectors and the connectors feel to seat inside of the sockets securely.
One thing that does bother me a little is the fact that the connectors poke out at a slight angle.
This is not a quality issue, but simply by design. The adapter itself has a curved edge and the sockets are on a slight angle.
Personally I think the aesthetics would have been more pleasing with the connectors protruding in parallel and at a right-angle to the casing edge that features the connectors.
This is however merely an opinion concerning the aesthetics. It does not affect the functionality or quality of the adapter and for many it will not be an issue, especially if the unit will be hidden behind a screen.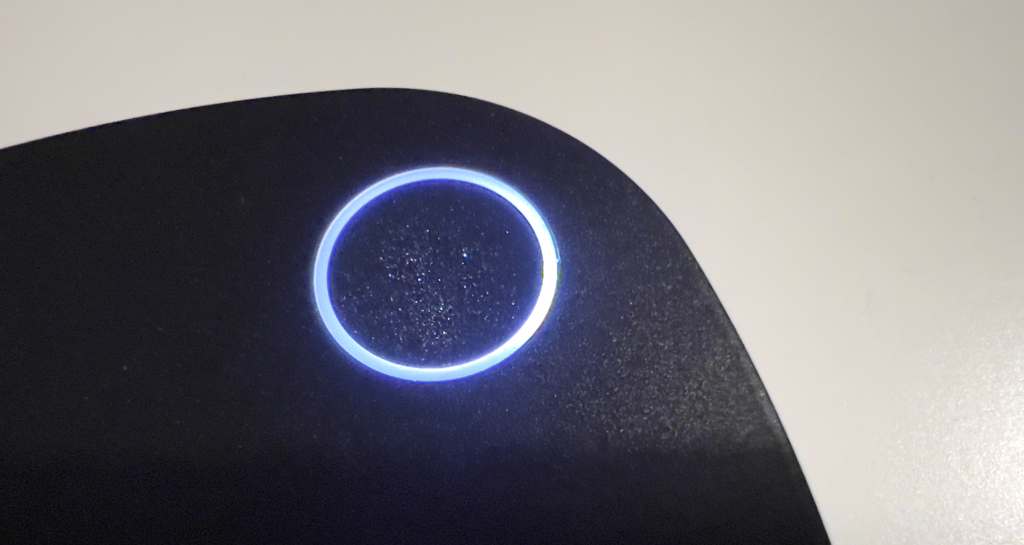 One other small mention regarding aesthetics is that the large button on the adapter did not quite have complete opacity.
The LED that illuminates the ring could also be seen through the button itself as speckles of the dark coating were missing.
Once again this is only a minor cosmetic detail. The button itself actuated very nicely with an obvious click.
The quality is adequate and although the adapter is not likely to win any design awards, the design is compact, lightweight and certainly fit for purpose.
Using the Proscreencast SC01
Now that we have the Proscreencast SC01 unpacked, let's take a look at setting it up.
Installing the Proscreencast SC01
Due to its simplicity and lightweight design, the Proscreencast could easily be mounted behind a screen or on top of a projector using a simple sticky pad.
It is so lightweight in fact, you could just let it hang by the cables with no adverse effects.
The only complication might be the inclusion of a USB power supply, which would require an additional plug that could be unavailable or awkward to fit in a tight space, such as begin a wall mounted screen.
As mentioned during the unboxing, it is a shame that a 2A supply is necessary as it would have been a lot more convenient to use a USB port on the screen to power the Proscreencast SC01.
Connecting the Proscreencast SC01 to your display
Proscreencast SC01 can be connected to any display which features a HDMI input, most likely a TV or projector.
It is very simple to connect and set up.
The USB-C connector should be connected to a 2A 5V power supply.
The HDMI output needs to be connected to a free HDMI port on the device that you wish to use it with.
In my case I connected the Proscreencast SC01 to the HDMI 3 input on the side of the TV.
Once connected, simply switch the TV to the input where the Proscreencast SC01 is connected and you will be presented with 4 steps that explain how to configure everything.
Wait… hang on, that doesn't look right?
The Proscreencast SC01 has the unique ability to rotate between portrait and landscape mode.
This is a feature that sets the Proscreencast SC01 apart from the rest. If you are looking for a device that supports portrait screencasting, this is certainly it!
Just be mindful that pressing the big button on the adapter box will rotate the display.
This confused me a little. I must have pressed the button by mistake before connecting the adapter to the screen.
Not to worry. This is easily solved by pressing the big button on the adapter again.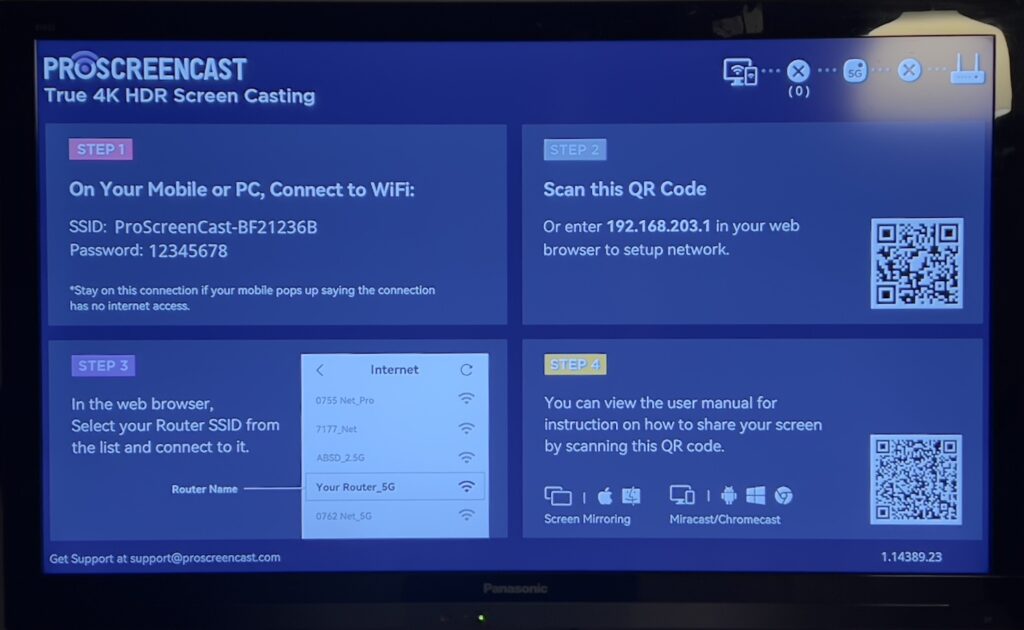 Awesome! Much better! Setup is much the same no matter the device that you are using.
In order to set up Proscreencast SC01, simply complete the following 4 steps:
Connect your mobile device or computer to the Proscreencast SC01 WiFi using the default password 12345678.
Open a browser and navigate to http://192.168.203.1
On the setup page choose the Internet option. Then choose your WiFi router and enter the password.
Connect your to Proscreencast to start casting your screen.
Note that the Proscreencast SC01 offers the ability to connect via a common router, or you can connect directly.
This means that at step 4, you can leave your device connected directly to Proscreencast SC01 and begin casting directly from your device.
Alternatively you can disconnect your device from Proscreencast SC01 and reconnect to your router.
So long as your Proscreencast SC01 and device are connected to the same router, you will be able to cast your screen to Proscreencast. Awesome!
In my experience of testing both types of connection, connecting directly to Proscreencast gives a slight performance increase.
Removing the latency of the router and connecting directly to Proscreencast SC01 is certainly an advantage!
It could also be useful to have the ability to connect to Proscreencast directly if you do not have access to the WiFi router.
For example you could take the Proscreencast to a remote location, such as a client's office, and cast to it without needing access to the local WiFi network.
There are also a large number of options that can be tweaked in order to improve the experience.
Reducing the resolution and framerate can lead to a smoother experience.
Portrait mode is also available, including rotations at 0, 90 and 270 degrees.
All of these options are available through a rather slick browser-based menu system.
Once connected, the Proscreencast appears to Apple devices as an AppleTV device.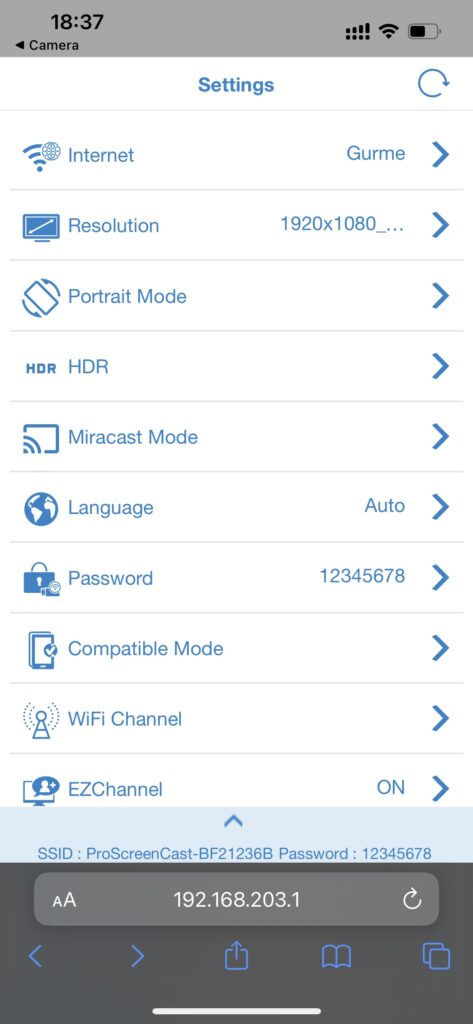 How Does The Proscreencast SC01 Perform
The Proscreencast SC01 is very easy to configure and the firmware seems robust.
I have mixed opinions about the performance.
Depending on circumstances, I found the performance to range from acceptable to excellent.
How Does The Proscreencast SC01 Perform on Mac OS
I really like the way that Proscreencast SC01 can be configured to mirror a display or perform as a second monitor.
This can be configured in Mac OS in the same way that you can configure a second monitor.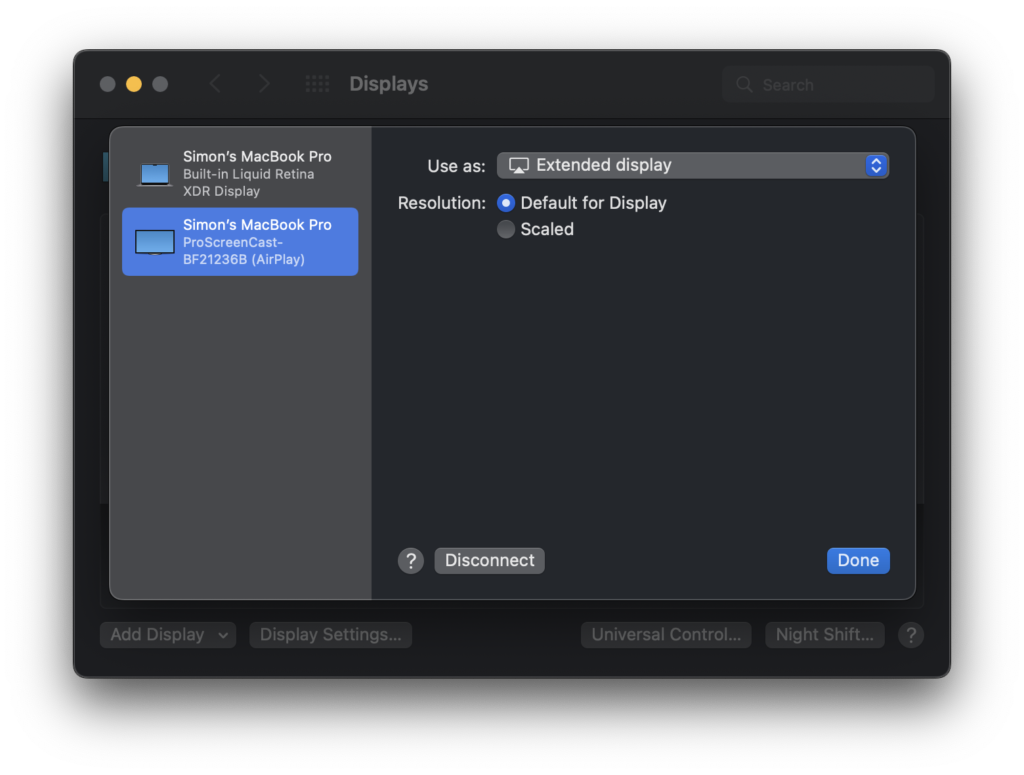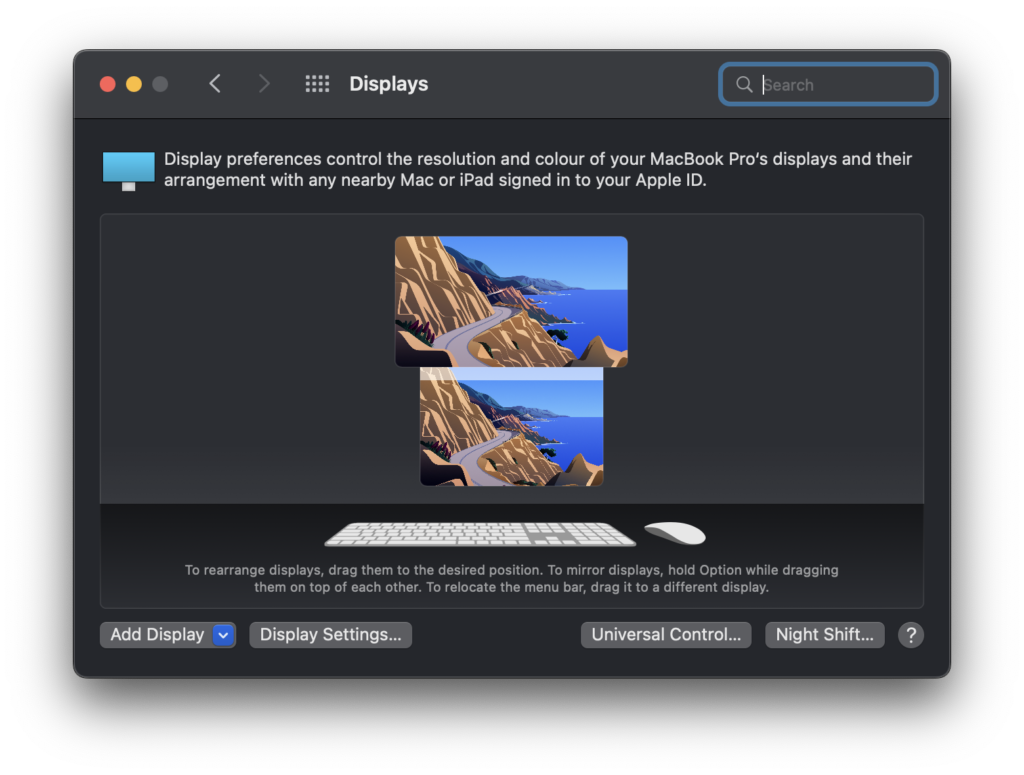 The latency is noticeable, but not a showstopper.
You can comfortably use Proscreencast SC01 as a second monitor for general office usage, for example to display a spreadsheet in a meeting room.
Where the Proscreencast SC01 begins to show the limitations of wireless screencasting is during video playback.
It is certainly possible to play a video (for example, on YouTube), however the frame rate is less than buttery-smooth and frames can be dropped at times.
In addition to this I was unable to get VLC Media Player to cast to Proscreencast SC01.
In short, Proscreencast will not be replacing my Amazon FireStick + VLC App for playing back movies from my laptop to a TV.
And that is a shame… because for the price I was hoping that I could leave my FireStick at home whilst travelling.
How Does The Proscreencast SC01 Perform on iOS
Proscreencast SC01 performs very well when using iOS!
I was very impressed with how smoothly the screencasting works when using iOS!
Swiping between pictures in the iOS gallery was a joy, as the speed in which they moved across the iPhone screen was near identical to what we observed on the TV.
The latency was noticeable but fairly minimal and it certainly seemed like an improvement over using Mac OS.
When compared with a recent Sony TV with airplay capability, the Proscreencast was more responsive.
The Sony TV had somewhat noticeable choppiness / latency, compared with the butter smooth experience with the Proscreencast.
If you want to share your iPhone or iPad screen to a TV or projector that does not support AirPlay, the Proscreencast SC01 would be an excellent choice.
Who Should Buy the Proscreencast SC01
After spending a little time testing Proscreencast SC01, I would recommend the product to the following people:
iOS users wishing to cast their phone screen.
Those wishing to add screencasting abilities to their projector.
Those wishing to add screencasting abilities to an older TV.
However if you wish to stream video, you may want to consider a different option.
For streaming movies from laptop to TV, I would still recommend streaming to a FireStick running the VLC application.
The Verdict
It is true to say that more and more newer model TVs are coming with AirPlay or Chromecast functionality built in.
This means that the Proscreencast SC01 will be more suited to older models of TV that don't already have this functionality.
Those with projectors that do not natively support casting will also be interested in Proscreencast SC01.
However it seems like those who would most benefit from the Proscreencast SC01 are those wishing to cast their iPhone screen to the TV.
In this case the Proscreencast can outperform the built-in functionality of newer devices and it provides an excellent user experience.
Pros
Easy to set up.
Great UI / Menu system.
No app necessary.
Features portrait mode.
Wide range of resolutions and frame rates.
Excellent performance on iOS.
Cons
No direct video casting (from VLC).
A little pricey.
Requires a 2A power supply / not recommended to power from standard (TV) USB port.
The Proscreencast SC01 is available directly from Proscreencast.
Alternatively, check the latest price for Proscreencast SC01 at Amazon here.
Thanks so much for visiting my site! If this article helped you achieve your goal and you want to say thanks, you can now support my work by buying me a coffee. I promise I won't spend it on beer instead... 😏