Introducing the Sonoff TRVZB: Elevate Your Heating Control Game!
In the era of smart home innovations, managing your home's heating system has never been easier or more efficient. Meet the Sonoff TRVZB, a cutting-edge Thermostatic Radiator Valve (TRV) designed to revolutionize the way you control and optimize your heating.
Say goodbye to manual adjustments and hello to a more comfortable, energy-efficient, and convenient home environment.
In this comprehensive review, we'll dive deep into the features that set the Sonoff TRVZB apart from the rest, exploring its benefits and how it can enhance your daily life.
Whether you're looking to save on energy bills, customize room temperatures, or simply enjoy a hassle-free heating experience, the Sonoff TRVZB has you covered!
Get 10% Off ALL SONOFF Products!
Looking for a great deal on SONOFF products? You can now purchase any SONOFF product using the SIYTEK discount code and receive 10% off your purchase!
Where Can I Buy the SONOFF TRVZB?
The SONOFF TRVZB is now available to buy from the official iTead SONOFF store and Siytek readers can get 10% off purchases there!
Click here to visit the product page and use discount code SIYTEK10 to get 10% off!
Thermostatic Radiator Valves (TRVs) in the Smart Home
TRVs are devices installed on radiators within a heating system. Their primary function is to regulate the flow of hot water into the radiator, thereby controlling the room's temperature.
Unlike traditional manual valves, TRVs incorporate a temperature-sensitive mechanism that automatically adjusts the flow based on the desired room temperature.
Smart TRVs: The Future of Heating Control
1. Remote Control: wireless smart TRVs provide remote control via smartphone apps or voice assistants. This means you can adjust heating settings from anywhere, providing convenience and energy savings.
2. Advanced Scheduling: Smart TRVs offer advanced scheduling options. You can create customized heating schedules for each room or zone in your home. This ensures that your heating system operates efficiently, only when and where it's needed.
3. Individual Room Control: Smart TRVs provide precise control over individual rooms. This zoning capability allows you to customize the climate in each space, optimizing comfort and energy efficiency.
4. Energy Insights: Many smart TRVs offer insights into your heating system's energy consumption. This data helps you make informed decisions to further improve energy efficiency.
5. Integration: wireless smart TRVs often integrate seamlessly into larger smart home ecosystems. They can communicate with other devices, such as smart thermostats, sensors, and smart hubs, creating a fully connected and automated home environment.
6. Adaptive Features: Some smart TRVs include adaptive features that learn your heating preferences over time. They adjust settings automatically to provide maximum comfort while minimizing energy usage.
7. Cost Consideration: It's worth noting that smart TRVs, especially those with Zigbee compatibility, may have a higher initial cost compared to traditional TRVs. However, the potential energy savings and convenience often justify the investment over time.
Choosing the Right Solution
The choice between traditional TRVs and Zigbee-enabled smart TRVs depends on your priorities and budget. If you seek basic comfort control and have a limited budget, traditional TRVs might suffice.
However, if you value advanced scheduling, remote control, individual room comfort, and energy efficiency, investing in Zigbee-enabled smart TRV, such as the SONOFF TRVZV, is a forward-looking choice that aligns with the future of smart homes.
They offer a level of control and automation that can enhance both your comfort and your energy savings, ultimately providing a more convenient and efficient heating solution.
Unboxing the Sonoff TRVZB
Upon receiving the TRVZB, I was pleased to find it contained within SONOFF's usual high quality packaging. The product was well supported and clearly protected for transit.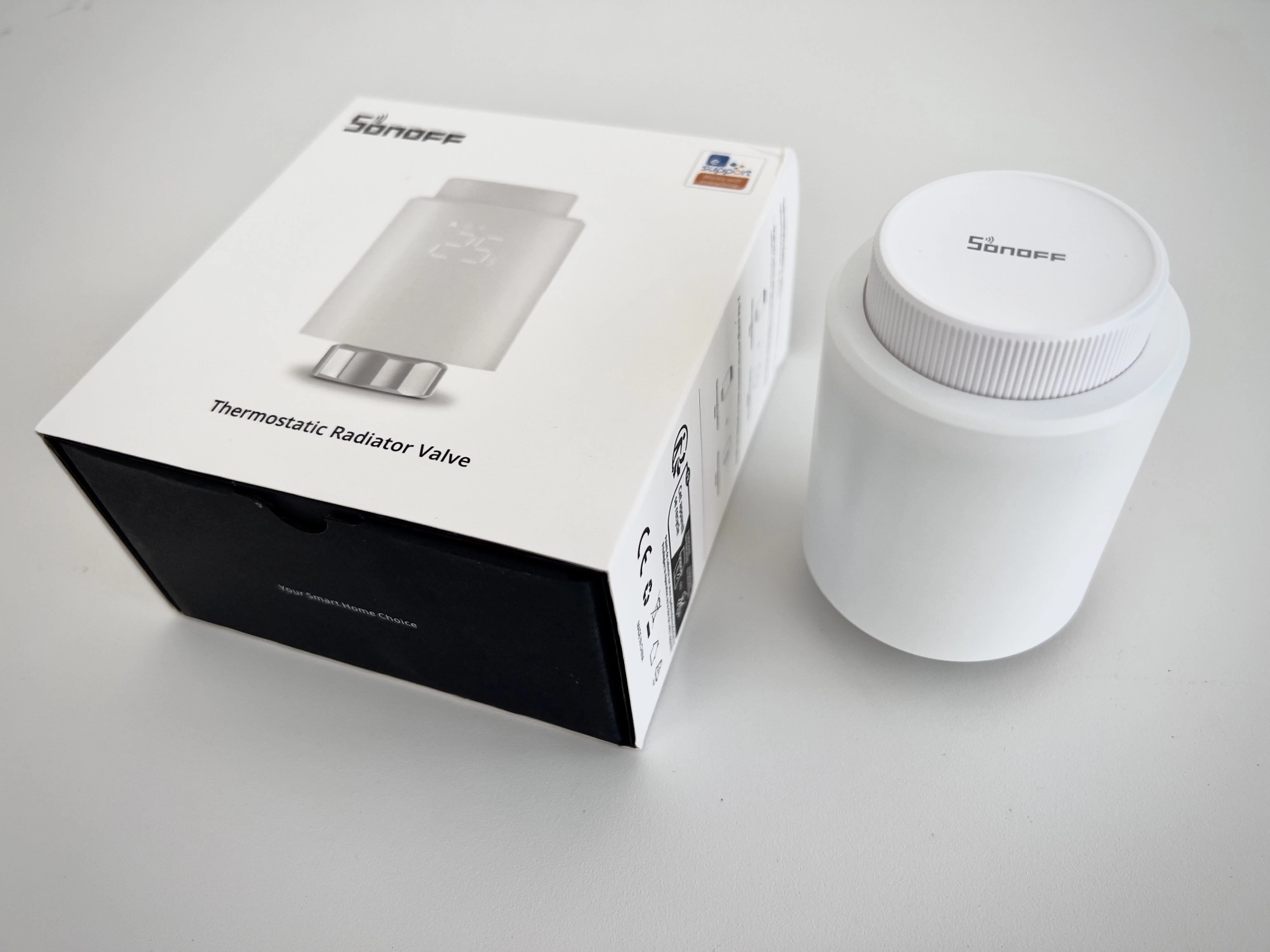 Like with the previous SONOFF products reviewed here, the TRVZB itself was supplied in a silky white wrapper, clearly taking inspiration from Apple products, whilst still maintaining a unique design.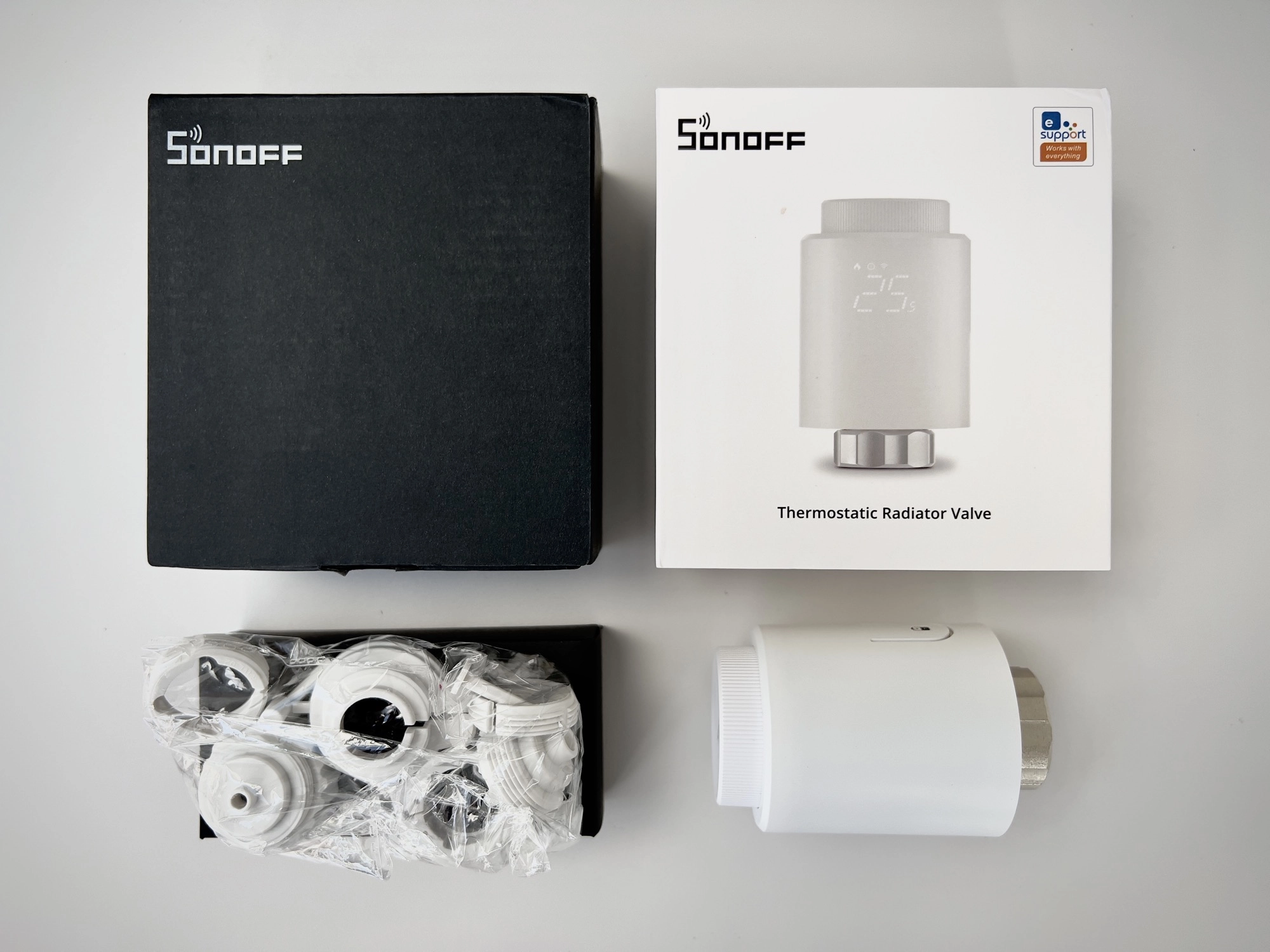 Along with the TRVZB itself, a smaller box within the main box revealed a series of adapters, presumably to allow the TRVZB to attach to various radiator valve fittings.
However in my case, these additional fixtures were not necessary as the TRVZB fitted directly on to my radiator valves.
Note that if the TRVZB does not fit directly on to your radiator, SONOFF provide a guide that will help you select the correct adapter, click here to see it.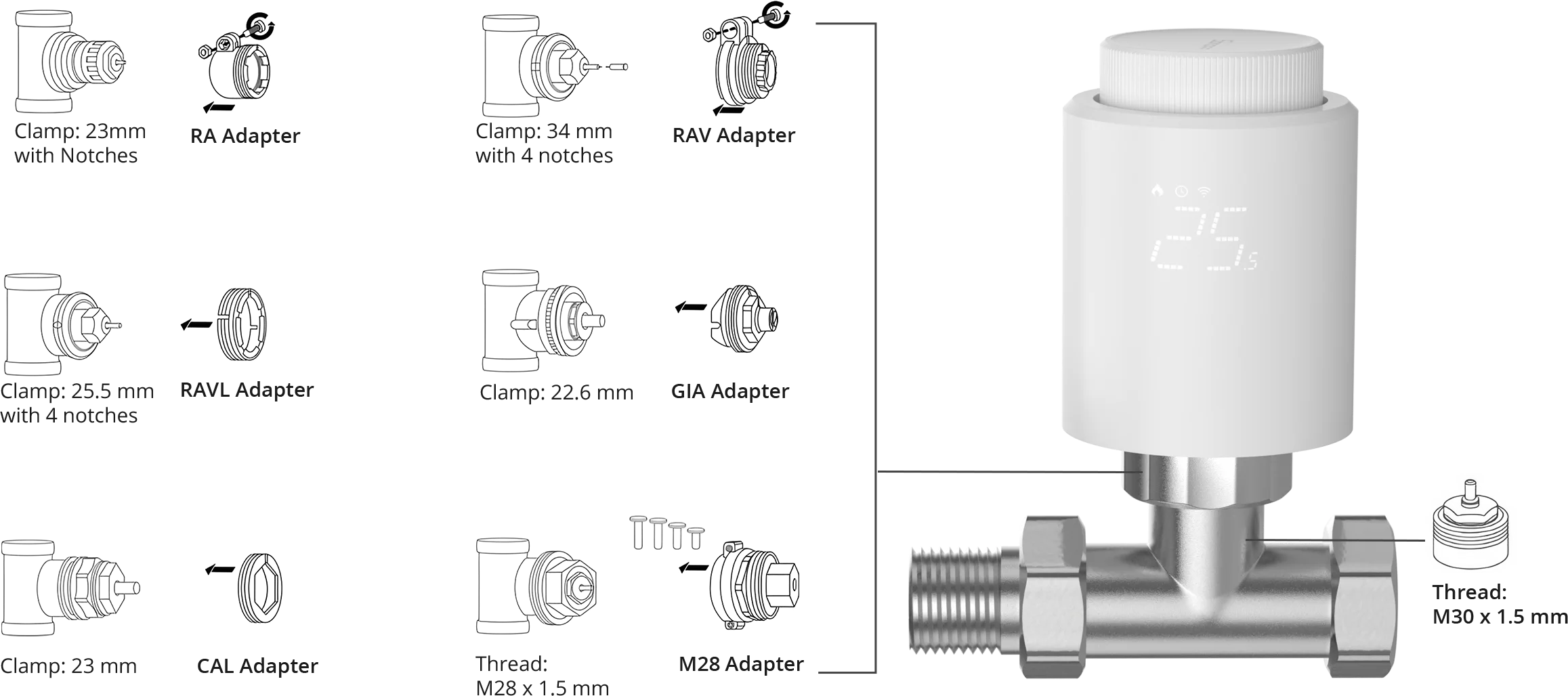 Sonoff TRVZB Specification
For the TRVZB specification at a glance, take a look at the following table:
| Model | TRVZB |
| --- | --- |
| Wireless Connection | Zigbee 3.0 |
| Input | 4.5V (3×1.5V AA Batteries) |
| Battery Model | 1.5V LR6 Alkaline AA Battery |
| Threaded Connection | M30x1.5mm |
| Color | White |
| Product Dimension | 59.4×59.4x95mm |
| Net Weight | 154g |
| Casing Material | PC |
| Temperature Setting Range | -4°C-35°C |
Sonoff TRVZB Key Features
In addition to the more obvious features that you would expect from a smart TRV, such as the ability to schedule the heating settings in individual rooms, there are also some other very interesting features available on the TRVZB.
Let's take a closer look at some of the TRVZB key features:
Manual mode
The first interesting point about the TRVZB is that it can function entirely in manual mode. This took me a little by surprise, as for some reason I was expecting the valve to require a connection in order to function properly.
This means that if your smart home fails in some way, for example during a power cut, you still have control of the radiator temperature.
Also, if the wireless connection to the TRVZB is lost, the valve will continue to work just like a manual valve.
You could even install this valve without any intention to connect it to a smart home, as the precise digital display is most certainly an upgrade on a traditional valve.
Zigbee 3.0 Connectivity
In addition to the aforementioned manual mode, there is of course a wireless connection available, which uses the Zigbee protocol.
This means that TRVZB can be connected to a whole host of devices, such as the SONOFF iHost (note that iHost compatibility is coming in November 2023).
You can also connect the TRVZB to other platforms such as Home Assistant using a USB bridge such as the SONOFF ZBDongle.
Note that if you are planning on using the TRVZB with the mobile app, you will need a Zigbee hub.
Stylish LED display
The temperature readout along with some other setup indicators appear from nowhere on the front of the casing, as if by magic!
This information is only visible when it is necessary to see the information, such as when you are turning the dial to set the temperature.
This is a really nice little design feature!
It is also worth pointing out that you can rotate the display by 180° if necessary, to better suit valve position if it is not pointing upright.
When not adjusting the temperature or performing the setup, the TRVZB looks just like any other radiator valve. The display actually shines through the plastic casing and there is no trace of it when the display is turned off.
The implementation of this concept is not quite perfect, as there is a bit of a haze around the display, contrary to what is shown in the marketing material.
Images below show what the TRVZB looks like with and without the display. Take note that it probably looks a little worse in the picture, compared with what it actually looks like in real life.
Overall I would say that the display is certainly good enough and there is no question about the clarity. It is certainly very easy to read the temperature value. The display is also very responsive, with no delay when turning the dial.
Those who desire stealth smart home products, which pass "the partner test" with flying colors, will be delighted by this feature.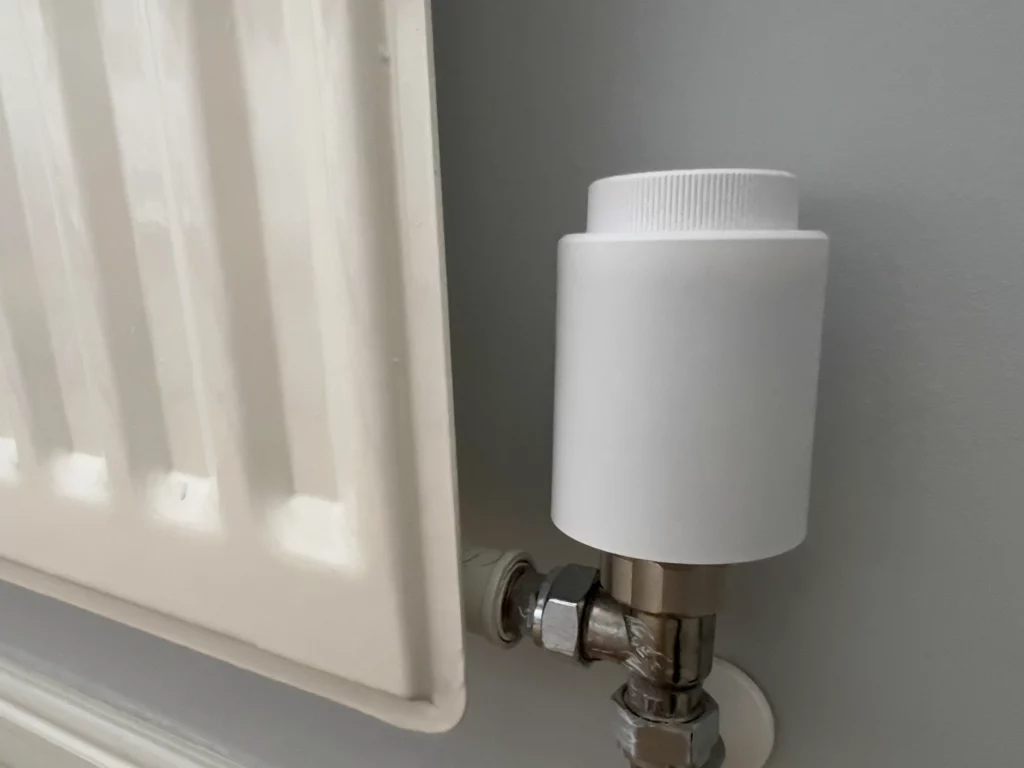 Open Window Detection
Another interesting feature is the open window detection, which is built into the valve itself.
If a temperature drop of more than 1.5°C is detected in under 4.5 minutes, the valve will activate open window mode.
In this mode the valve will set itself to 12°C in order to prevent energy wastage, which of course has the potential to save you some money!
Open window mode can then be disabled either by manually adjusting the temperature, adjusting the temperature remotely by a connected device, or after a period of 30 minutes with no manual input or changes requested from the remote device.
Calcium Removal
Yet another benefit of the TRVZB is it's ability to prevent calcium buildup on your radiator valve.
Those of you who have older systems may very well find that you have a seized valve, which is a pain to clean out. This is due to calcium buildup on the valve itself through periods of inoperation.
The TRVZB automatically performs a weekly routine, whereby it actuates the valve in order to prevent the buildup of calcium, preventing your radiator valve from becoming seized. Very nice idea!
Child Lock
Those of you with young children will be pleased to know that you can lock the TRVZB in order to prevent them from tampering with the settings.
Simply press and hold the main button down for 3 seconds to lock or unlock the valve.
Frost Protection
Frost protection is one of the man advertized TRVZB features, although there are not many details about the actual operation of this mode.
I would speculate that the TRVZB has the ability to actuate the radiator valve in the event of very low temperatures, in order to prevent pipes bursting, should the water inside the system freeze.
This feature won't be relevant to everyone, but those who might leave their homes for extended times during very cold weather could certainly find this a huge benefit.
Does the TRVZB Have a Good Battery Life?
The TRVZB is powered by 3x standard AA batteries, which are not included, therefore the actual battery lifespan of the TRVZB will depend on the quality of batteries that you choose
At this stage it remains to be seen just how much endurance the TRVZB has and some further testing is needed. However I would be surprised if the batteries need to be replaced more than once or twice per year, depending on how long your winter season is.
Removing the casing to install the batteries is a little fiddly, especially when lining the case up to reinstall it. This is something that could possibly improved.
However as you are not likely to have to do this very often, I don't see it as a major issue.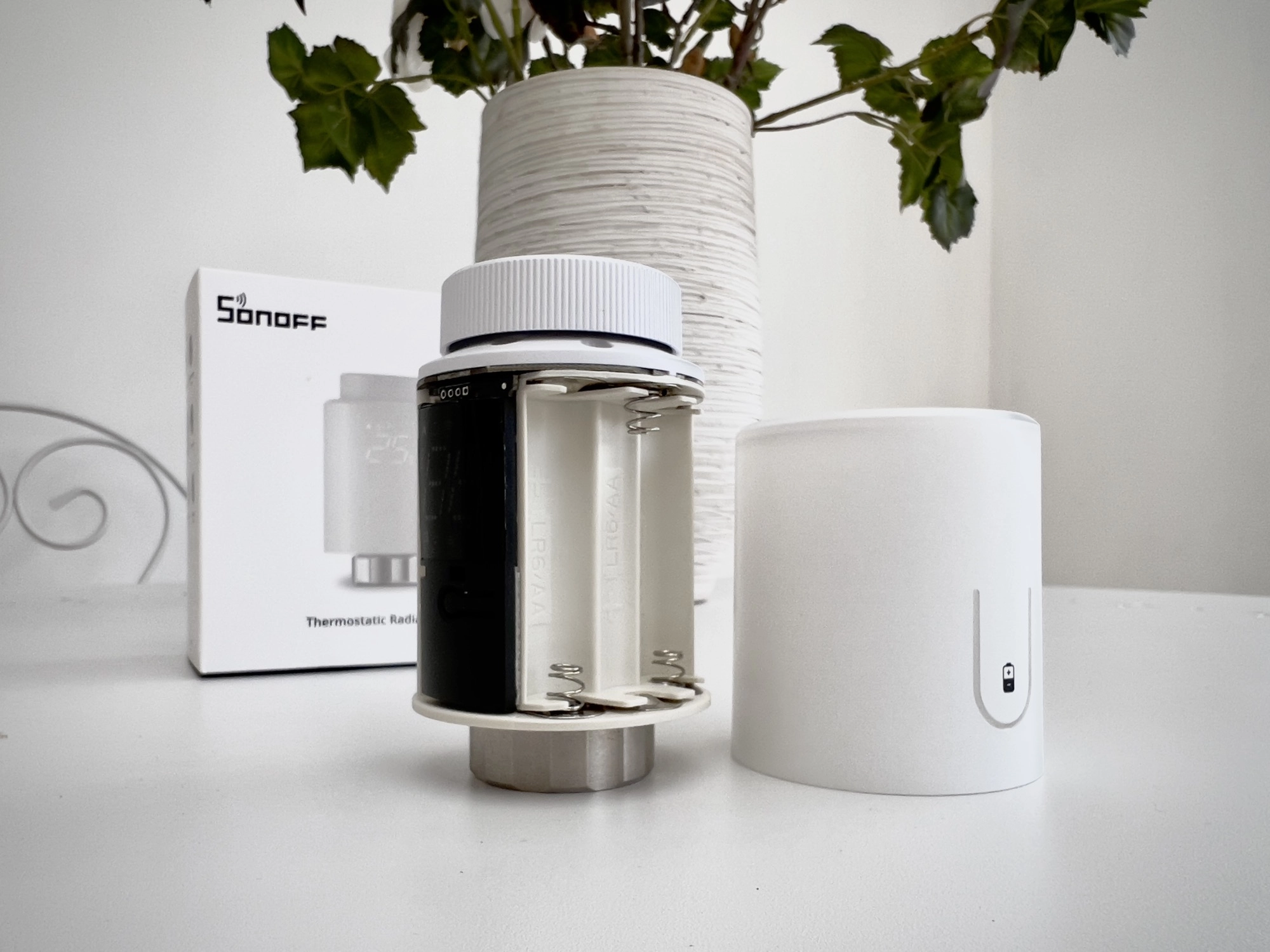 User Experience
Like with most SONOFF products, using the TRVZB is quite easy. I thought that it might be a little tricky to install, however this also proved to be very easy too.
Is the TRVZB Difficult to Install?
Installation was very easy and much to my surprise, as I didn't even need any tools.
I was able to remove the existing manual TRV from the radiator valve simply by unscrewing it with my hands. I then simply screwed the TRVZB on to the valve.
Your mileage may vary if you have a different type of fixing on your radiator valve, or perhaps if your valve is older and the existing TRV is stuck on tighter.
However all necessary adapters are included and SONOFF provide a comprehensive guide to determine which adapter is required.
The valve itself is a little bigger than modern manual TRVs. It is slightly wider in diameter and slightly taller. However once installed, I don't think it looks too large.
The valve shown in the following picture is for comparison, but it is worth noting that it is almost brand new and it is certainly smaller than the more common older valves.
Unless your existing valves are very modern, you will likely find that the TRVZB is more or less the same size as your existing valves.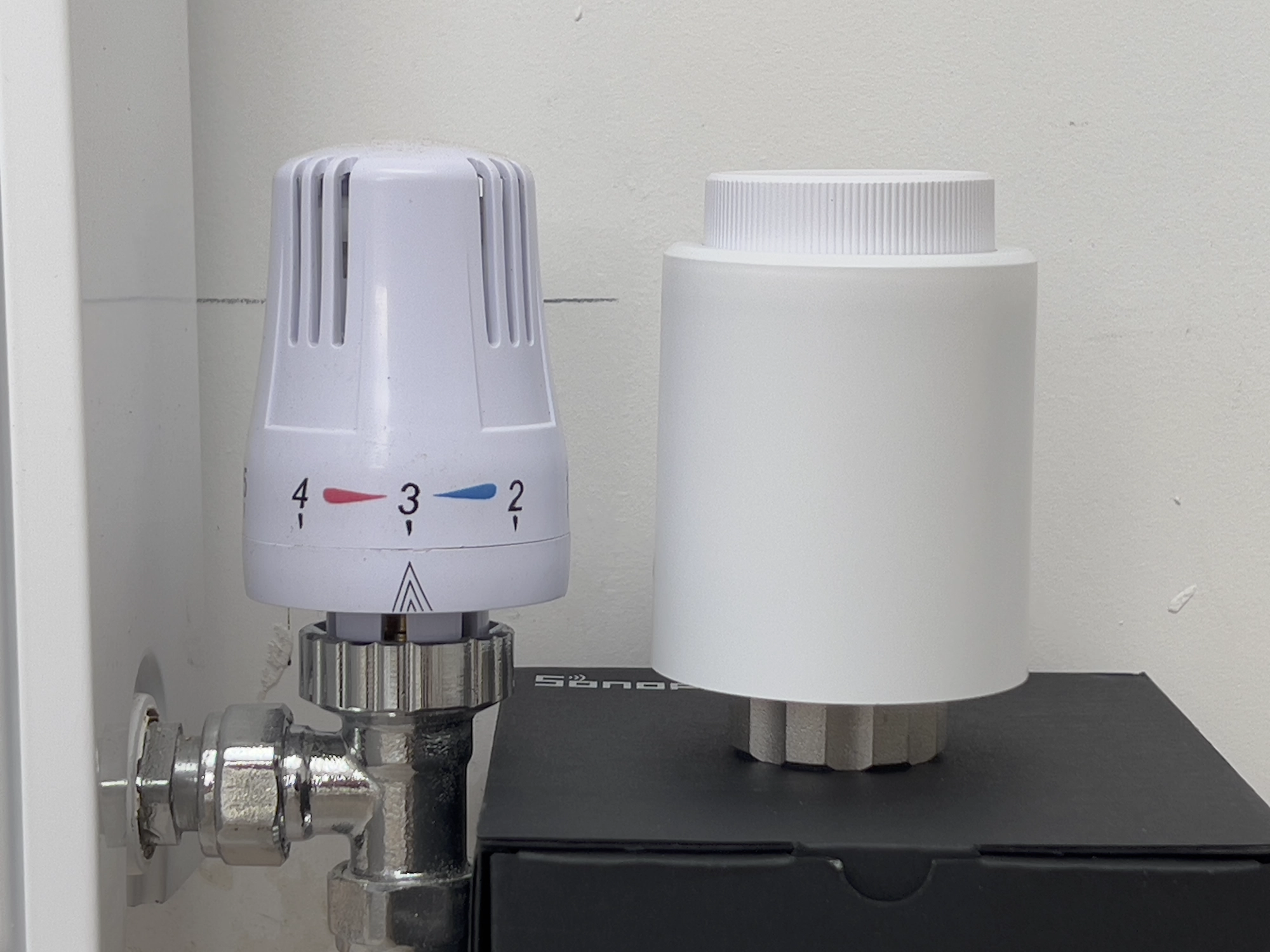 Will TRVZB Work With the SONOFF iHost
Yes, the TRVZB will work with the SONOFF iHost. However at the time of writing, TRVZB support has not yet been added to the iHost.
For those of you who are interested in using the TRVZB with iHost, SONOFF are expecting support to be available in November 2023, check the product page for updates.
For those of you who are looking for a solution to manage your TRVZB valves, the SONOFF iHost is an excellent choice of smart home hub. In addition I would certainly recommend it for those wishing to use other SONOFF products.
For most people who wish to build a smart home, without the complexities of a solution such as Home Assistant, the iHost offers a nice balance of features and functionality whilst being provided in an easy to use package that looks sleek and unobtrusive (which really means that it passes "the partner test").
I would highly recommend checking out my iHost review if you are interested to learn more about the iHost platform.
Will TRVZB Work With Home Assistant?
Yes, the TRVZB is officially compatible with Home Assistant.
SONOFF state on the product page that the TRVZB can be connected to Home Assistant using either the ZHA integration or Zigbee2mqtt.
Conclusion
The SONOFF TRVZB overall is another excellent smart home product. The experience of unboxing through to operation was slick and well thought out, as with many other SONOFF products.
I was particularly surprised by the wealth of features that SONOFF have managed to pack into the TRVZB!
Initially I had an idea of what to expect from a smart TRV and what the benefits might be over a traditional manual TRV. However I was pleasantly surprised to discover a whole host of other talents exhibited by the TRVZB!
Features such as calcium removal and open window detection can save you time and money. Child locking is also a very appealing addition for those with young children.
The slick and minimal design looks great and even though there could be some improvements to the display, I still love the concept and I think it has been implemented well enough to be a negligible critisizm.
The only other point to consider is the TRVZB is slightly on the larger side, which may be off-putting to some. However I personally don't find this an issue and I think it looks great!
If you are in the market for a smart TRV, this is certainly one to consider.
In addition, if you are already using products from the SONOFF ecosphere or you are looking for Home Assistant compatibility, this will likely be one of your top choices.
Click here to visit the official iTead SONOFF store and use the discount code SIYTEK10 to save 10%!
Additional Resources
The TRVZB has a comprehensive manual, detailing many of the features, which can be found here (note that the English language is found towards the latter part of the document).
If you need to use an adapter to fit the TRVZB to your radiator valve, be sure to check out this guide.
The best place to purchase the TRVZB is from the iTead SONOFF official store. Click here to visit the product page and use the code SIYTEK10 to get 10% off!
Thanks so much for visiting my site! If this article helped you achieve your goal and you want to say thanks, you can now support my work by buying me a coffee. I promise I won't spend it on beer instead... 😏