Guess what…? EVVR might have solved your smart switch dilemma!
When thinking about lighting within your smarthome, lamps have traditionally been easy to work with… just add a smart bulb!
However the lights in our homes that have a wall switch can me a little more troublesome.
We cannot just use a smart bulb like we do in lamps because the wall switch simply cuts the power.
Even if we are able to fabricate a way for our smart home system to read the state of a standard wall switch, our smart home still loses control of this light when the wall switch cuts the power.
There are several solutions to this problem.
We can replace all of the wall switches in the home for smart switches, which allow our smart home controller to both read the switch state and control the state of the light.
However this is not always a viable solution to the problem.
For a start, it can be costly to replace all of the switches in your house.
Also, you might have a particular style of switch that suits the design of your home interior, which you don't want to replace for super-modern smart switches.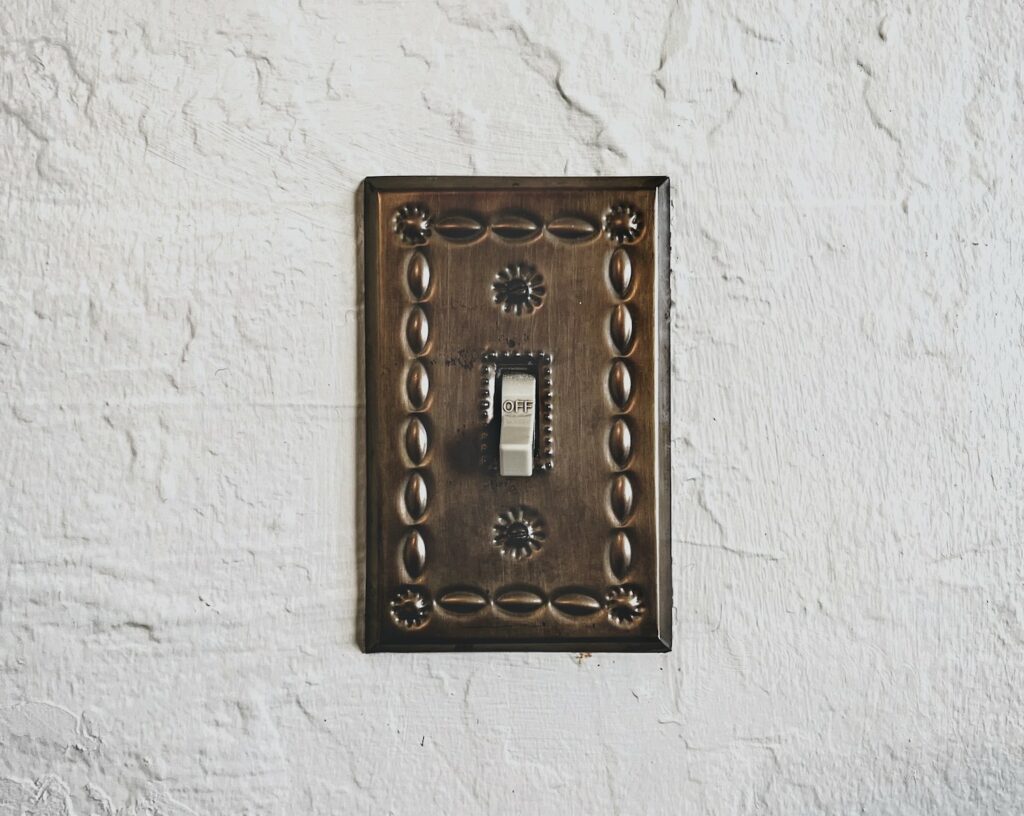 So how do we upgrade such a system to become smart?
How can we make our existing dumb switches smart?
Well, EVVR have come up with a very nice solution to this problem!
What Is The EVVR Smart Relay?
The EVVR Smart Relay is a compact relay actuator that can switch up to 250V @ 3A. It can be controlled wirelessly using a smart home controller.
The relay comes in three flavours;
Zigbee – compatible with Zigbee2MQTT or Zigbee 3.0 mesh networks.
Z-Wave – compatible with Z-Wave networks.
HomeKit – uses WiFi to connect to Apple HomeKit.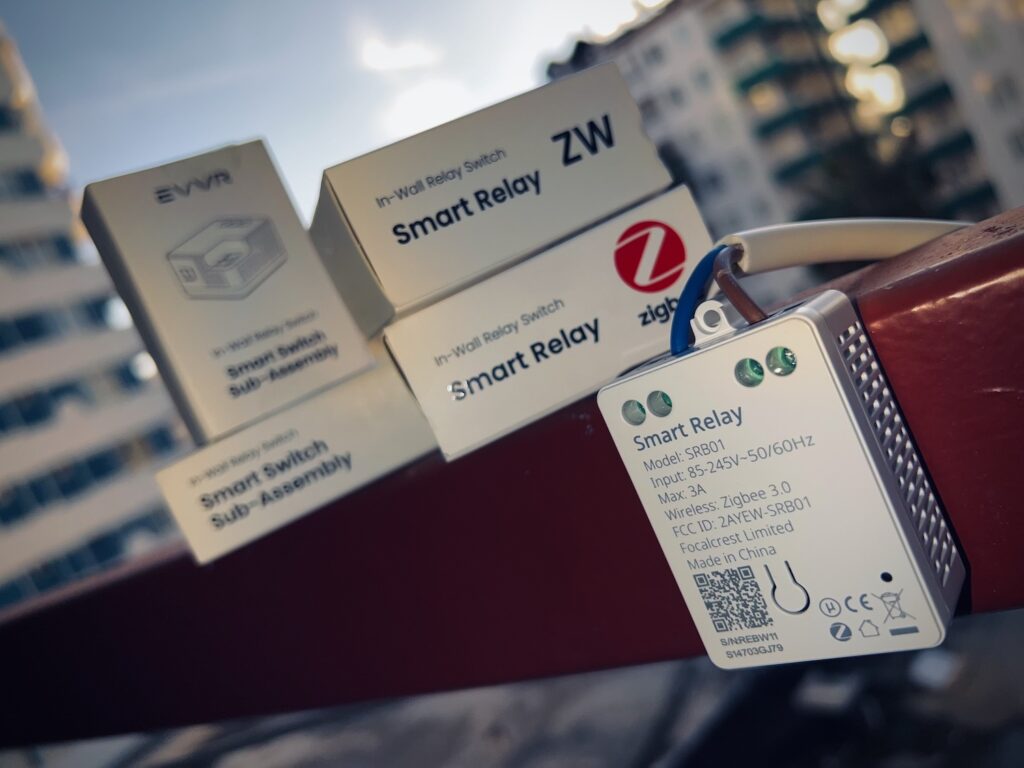 All flavours are available in both 50Hz and 60Hz versions, depending on where you are in the world.
This means that there is an option for mostly all smart home enthusiasts.
What's in the Box?
Both the EVVR Smart Relay and Smart Switch Sub-Assembly come in compact boxes containing everything you need for installation:
Smart Switch Sub-Assembly
1x Smart Switch Sub-Assembly
2 x Switch wiring harness
1 x sticky pad (mounted to the back of the sub-assembly)
1 x Installation instructions
Smart Relay Switch
1 x Smart Relay Switch
1 x 3M sticky pad
1 x Mounting screw
1 x Installation instructions
Both units have some weight to them and feel of a high quality build.
A blue indicator LED is used on the relay module, giving it a modern feel, and who doesn't love blue LEDs?!
The relay is not exactly cheap, but the quality of the product certainly feels to be in line with what you would expect for the price.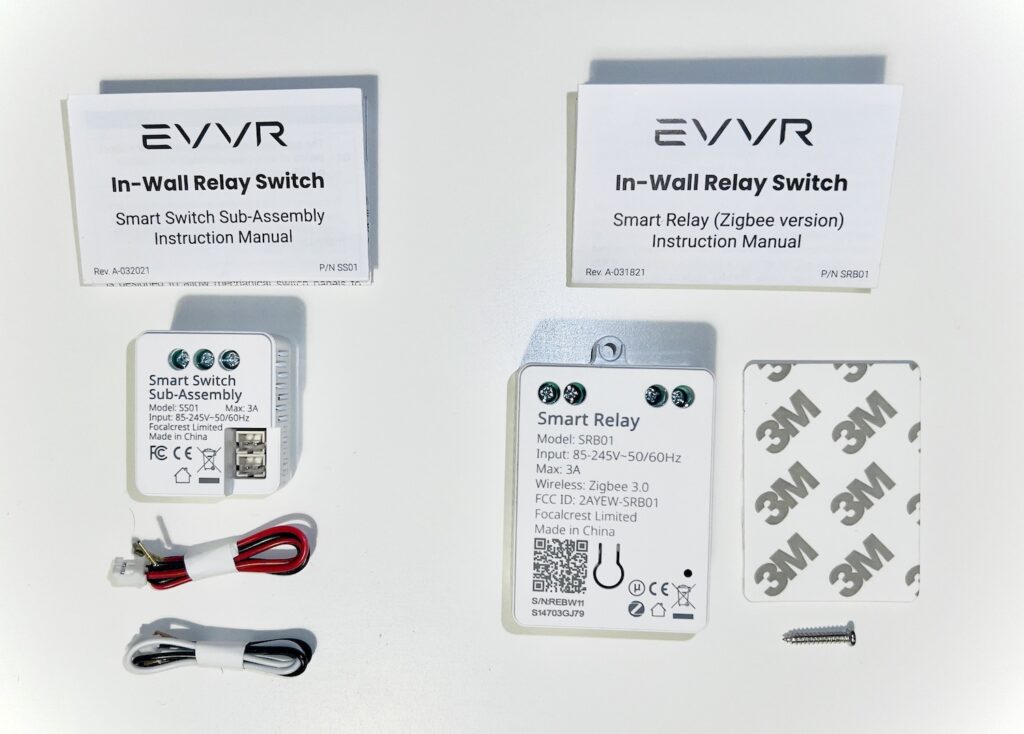 Why Choose the EVVR Smart Relay?
At this stage you might be asking the question… what makes this so special? Surely this is just another relay?
The innovation in this product is the decision to separate the relay and switch controller into two separate products:
Smart Relay – the main unit that contains a 250V relay switch.
Smart Relay Sub-Assembly – a smaller unit that can be retrofitted to an existing switch to make it smart.
The Smart Relay is exactly that. A Smart Relay. Just like the other offerings that are out there.
Like with all relays of this nature, it can be used to switch any mains electrical signal, within it's 3 amp limit. It is not limited to just switching just lighting, although that is the intended application.
What makes this product unique is the optional Smart Switch Sub-Assembly.
Combining the Sub-Assembly with the Smart Relay gives the functionality of a smart wall switch, without the need to replace the existing wall switch!
The recommended installation method is to install the smart relay somewhere close to the light, such as behind the ceiling rose.
Then the (much) smaller smart switch sub-assembly can then be more easily installed into the cavity behind the wall switch (USB plug for size comparison).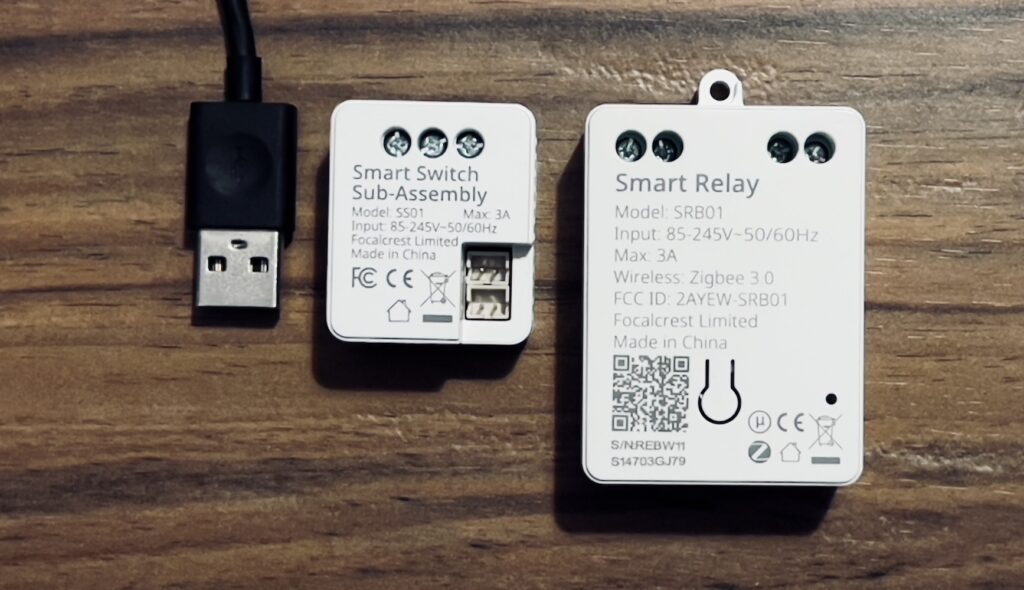 The Smart Switch Sub-Assembly is also designed in such a way that you do not need a neutral wire.
Instead you simply remove the wires from the existing wall switch and connect them to the live in and live out terminals of the sub-assembly.
The now-empty terminals on the wall switch can be connected to the included low power harnesses and then plugged in to the small connectors on the front of the sub-assembly.
There are two harnesses included and two connectors on the sub-assembly. This means both single and dual gang switches can be connected to a single sub-assembly.
The sub-assembly uses the low power wiring only to detect whether or not the switch is open or closed, so that the state of the switch can be fed back to your smart home controller.
Maybe that explanation was a little hard to follow?
Both units come with very clear instructions, which make everything easy to understand.
The diagram on the first page of the switch manual makes the prior explanation much clearer: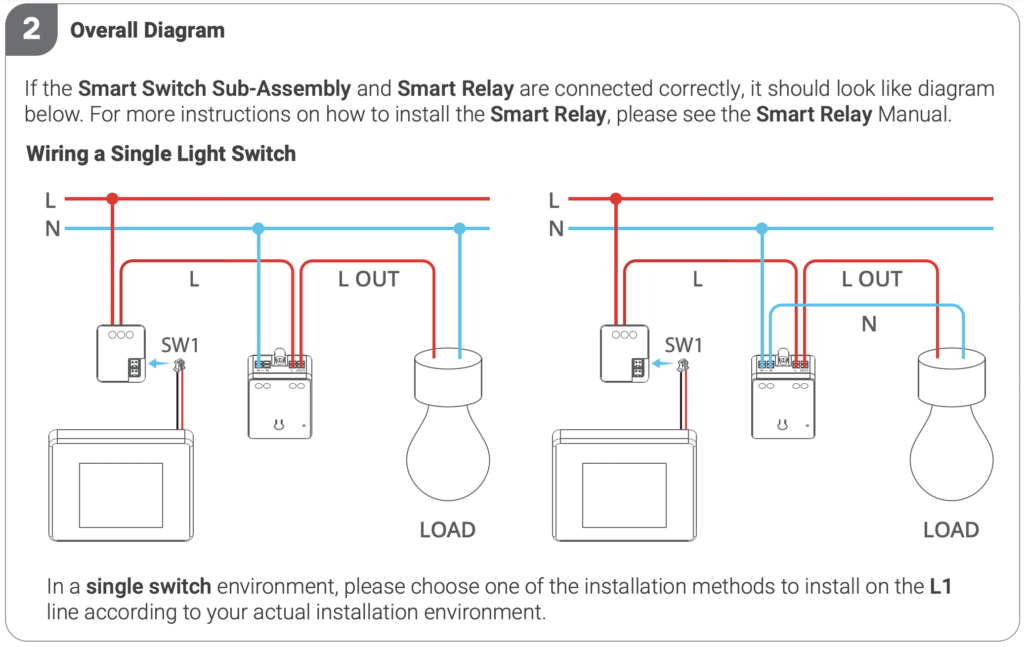 EVVR Smart Relay Technical Specification
Model
Zigbee: SRB01
Z-Wave: SRZW01
HomeKit: SRHW01
Product Size
59.4 (L) * 39.3 (W) * 21.2mm (H)
Input Voltage
AC 85V~245V
Minimum Load Power
No limit
Maximum Load Power
AC 110V/300W Resistive load
AC 220V/600W Resistive load
Operating Temperature
Operating: 0~40°C
Storage: -20~85℃
Ambient Humidity
5~85%
Wireless Connectivity
Zigbee 2.4GHz
Z-Wave 865.2MHz to 926.3MHz
HomeKit: Wi-Fi 2.4GHz, IEEE 802.11
Wireless Profile
Zigbee 3.0
Z-Wave 700
HomeKit
RF Characteristics
Zigbee: 2.4GHz
Range: 30m/indoor
60m/outdoor
Internal antenna

Z-Wave: 865.2MHz to 926.3MHz
Range: 30m/indoor
60m/outdoor
Internal antenna

HomeKit: 2.4GHz
Range: 50m~80m
Internal antenna
Compatible load types
Incandescent bulbs
Halogen bulbs
Fluorescent lamps
LED
EVVR Switch Technical Specification
Model
SS01
Product Size
33.5 (L) * 28.2 (W) * 17.3mm (H)
Input Voltage
AC 85V~245V
Minimum Load Power
No Limit
Maximum Load Power
AC 110V/300W
AC 220V/600W
Temperature
Operating:0~40°C
Storage:-20~85℃
Ambient Humidity
5~85%RH
Supported Switch Type
Toggle
Momentary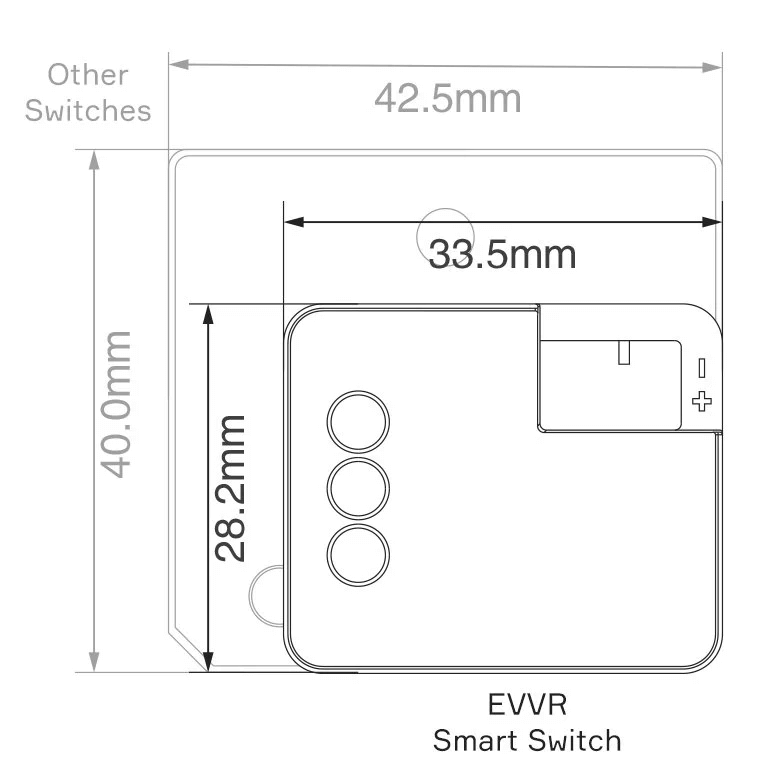 The Verdict
The EVVR smart relay and switch certainly present an innovative solution to a common smart home problem.
There are of course plenty of other smart relays to choose from, however it can be challenging to find the space to install such products.
EVVR have tackled this issue with a unique design, by separating the switch controller and relay into separate boxes.
With that said, there is one major drawback that applies to all relays.
Relays operate in a binary state. They can either be on, or off.
This means that it is not possible to perform dimming, and at this price point, it would have been nice to have that feature.
Pros
WiFi, Zigbee and Z-Wave options available.
50Hz and 60Hz versions available.
Separated switch and relay module.
Switch module much smaller than competing solutions.
Everything required for installation is bundled.
Cons
Installation requires changing wiring (professional installation recommended).
A little pricey.
No dimming.
Who Should Buy the EVVR Smart Relay & Switch?
I personally think the EVVR smart relay is a fantastic innovative product and such innovation is great for the smart home industry.
There are certainly a few groups of people who this product will appeal to, especially those wishing to keep their existing wall switches.
For example if you have fancy wall switches that you (or your partner) want to leave in place, this is a great solution for you.
This also applies to those who want to leave the existing switches in place in order to create a 'stealth' smart home. Not everyone wants their wall switches to look like the Starship Enterprise!
However some people are going to want the ability to dim their lights and at this price point (check the latest price here), it's hard to ignore other solutions that could provide dimming.
Lastly, let's not forget that the EVVR Smart Relay can be used to switch something other than a light. So it may be of interested to anyone who simply needs a relay.
If you are looking to make your lighting smart without changing the wall switches, or you are just in the market for a relay, go ahead and check out the EVVR Smart Relay!
Where Can I Buy the EVVR Smart Relay & Switch?
The EVVR Smart Relay and Switch are both available directly from EVVR, or from the EVVR Amazon store, be sure to click here to check for any great deals!
Thanks so much for visiting my site! If this article helped you achieve your goal and you want to say thanks, you can now support my work by buying me a coffee. I promise I won't spend it on beer instead... 😏