Want to run Tasmotizer on Mac without having to use the Terminal? I have a .dmg file just for you! Tasmotizer has made it much easier to flash Tasmota to your devices, however there is a caveat for Mac users. In order to use it you must have Python and use scary Terminal commands!
Even for those who dare venture into the two dimensional world of the terminal, it can be cumbersome to set up and run a program when compared with the alternative of having a slick and simple app in the applications folder.
Well fear not! I decided to make it even easier for my fellow Mac users by packaging up Tasmotizer into a neat little app. Simply download the Tasmotizer app here and run it, no terminal necessary!
Download FREE from Siytek.com:
My Tasmotizer Mac OS X build is completely free. However if you wanted to say thank you, feel free to go ahead and buy me a beer 🙂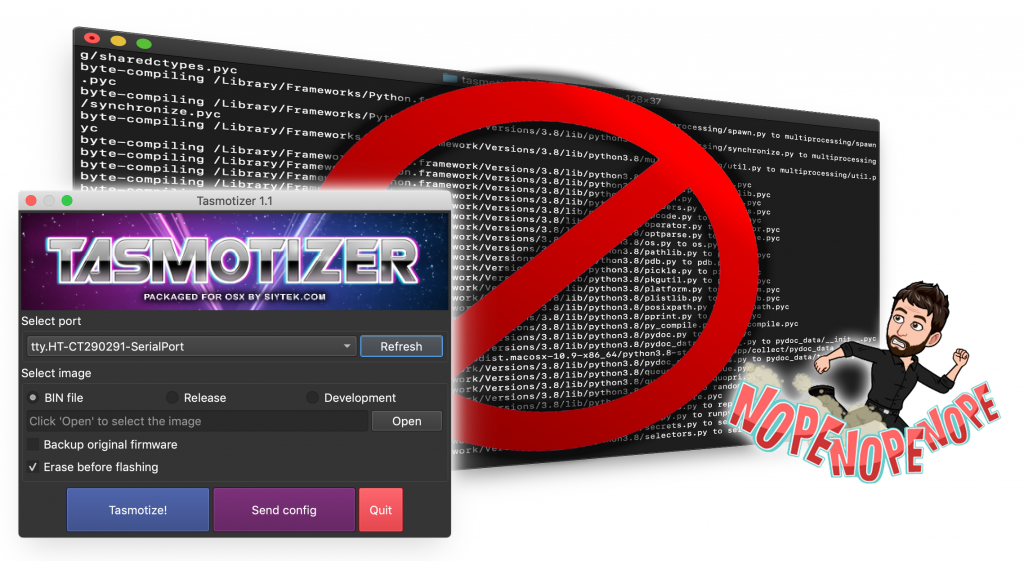 You can view and download the original source at Github. Tasmota binary files can be downloaded here. The official Tasmota documentation can be found here.
Once you have downloaded the file, go ahead and read the full tutorial on how to flash devices with the Tasmotizer.
Alternatively why not check out one of my other Tasmota flashing tutorials.